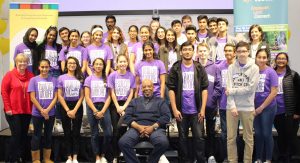 Claude Moore Community Builders
The Claude Moore Community Builders program is recognized as a valuable teen volunteer and leadership training program in the Loudoun Community. Established in 2007, with the help of a generous grant from the Claude Moore Charitable Foundation, the program has encouraged civic participation for youth in Loudoun County.     CMCB engages youth in meaningful volunteer opportunities that benefit the organizations they are paired with and the greater community as a whole.
CMCB is a ten-month program running from June – March each year. Applications open on March 22, 2019 and at the end of April each year. Historically, approximately 25 youth have gone through the program each year.  "Builders" will complete: 50 hours at a non-profit placement or combination of placements,  30 hours at service-day events where we volunteer together,  and 20 hours at 'curriculum days' where students learn about various topics such as leadership, communication and personal finance.
As  of March 1, 2019, Builders have completed over 5700 hours of community service: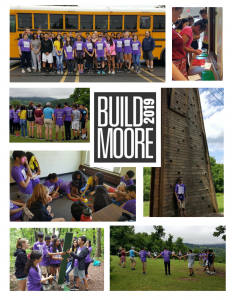 Meal Prep at 'Grace to Go' Food Outreach
YMCA Race in Leesburg
Keep Loudoun Beautiful Watershed Cleanup
Hannah Serota, Curriculum Day
Dulles Plane Pull, Special Olympics
All Ages Read Together 'Hoedown'
Reality Store, Curriculum Day
Make a Difference Day
Curriculum Day, Communication
YMCA Chocolates GaloreLoudoun Literacy Step Party
Loudoun Literacy Step Party
Jingle Bell Rock and Run
Ashburn Fire and Rescue Pancake Breakfast
YMCA Selfies with Santa
Special Olympics Basketball
Women Giving Back Clothing Sort
Valiant Warriors Quilt Making