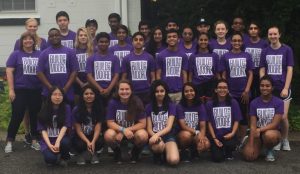 The Claude Moore Community Builders program is recognized as a valuable teen volunteer and leadership training program in the Loudoun Community. Celebrating its tenth year in operation, this program was developed to instill a culture of service and leadership in our youth which ultimately aids Loudoun County's ever-growing population.  Loudoun Youth is proud to partner with Loudoun Cares to present this program, with the support and guidance of the Claude Moore Charitable Foundation.  CMCB engages youth in meaningful volunteer opportunities that benefit the organizations they are paired with and the greater community as a whole.
  Claude Moore Community Builders
CMCB is a ten-month program running from June – March each year. Applications open in mid-March and at the end of April each year. Historically, approximately 25 youth have gone through the program each year. The class of 2018  had 27 new and 8 returning Builders for our largest class yet with 35 students representing 15 county high schools. Returning Builders act as mentors for the new participants and help to make our program a success.
CMCB 2018-19 IS OFF TO A GREAT START!
Students are being matched up with non-profits and have started their volunteering. We are working closely with them to ensure that they have a solid plan to meet the 100 hours required for this program:
50 Hours at a non-profit placement
30 Hours at service-day events
20 Hours at curriculum days
Summer 2018 Agenda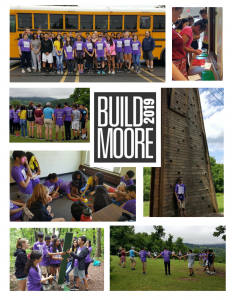 July 15th: Meal Prep at 'Grace to Go' Food Outreach
July 29th: YMCA Race in Leesburg
August 5th: Keep Loudoun Beautiful Watershed Cleanup
August 11th: Hannah Serota, Curriculum Day
September 15th: Dulles Plane Pull, Special Olympics
September 29th: All Ages Read Together 'Hoedown'
October 20: Reality Store, Curriculum Day
October 27th: Make a Difference Day
November 17th: Curriculum Day, Communication
February 23rd: YMCA Chocolates Galore