Step Up Loudoun Youth Competition
Step Up Loudoun Youth Competition encourages middle and high school youth across the county to identify an issue in their school, neighborhood or community, create a plan to address that issue, and implement the plan. The goal is to encourage, support and reward the youth of Loudoun County for making positive changes in their own lives and the lives of others.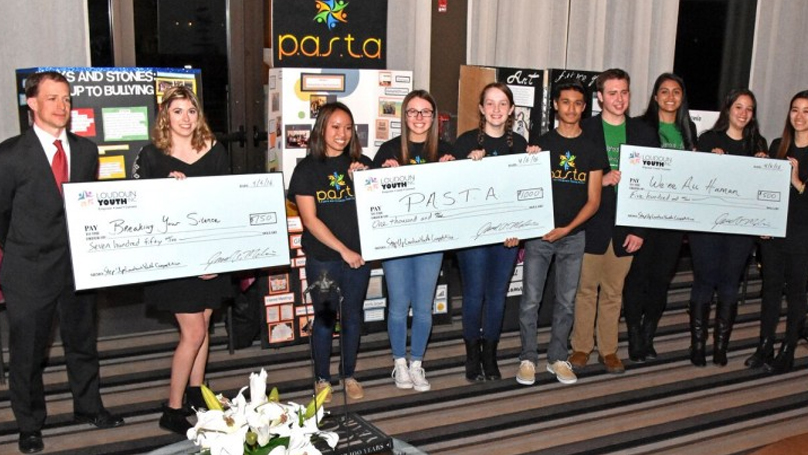 More than 70 teams of Loudoun County's middle and high school students submitted projects for the competition. However, due to the COVID-19 situation, the competition was moved to a virtual format. Projects offered ways to protect the environment, promote generational and inclusive health, and promote education support for one another during this time.
Read more about the impact Step Up participants created in 2020
263 Loudoun County teens participated in the competition.
78 teams shared their projects before COVID-19.
41 teams submitted their projects to our online competition.
4,890 hours were spent on projects.
8,116 people were impacted by caring ideas.
$134,475 of economic impact was made to Loudoun County.
CONGRATULATIONS to all of our student participants of the 2020 Step Up Competition!
View the 10 teams that advanced to the finals
90 Beats per Second.
Clean Nails Everybody Everywhere.
Dancing For Happiness.
EHK Tutoring.
Generating Electricity Through Walking.
Hydrolution.
Life Skills Education.
Posture, Exercise Nutrition For Kids.
Seneration.
Wheelchair Accessible Slide.
View the top three contestants
1st Place ($1,000) - Clean Nails Everybody Everywhere.
2nd Place ($750) - Posture Exercise & Nutrition for Kids.
3rd Place ($500) - Life Skills Education.
ARE YOU READY TO CREATE AN IMPACT?

Be part of the 2021 Step Up Loudoun Youth Competition. Check back in September to learn how to apply.