The Loudoun Youth Advisory Council (YAC) is a year round youth-development and leadership program. It includes representatives from each of the public high schools, private high schools ad the home-schooled community in Loudoun County. YAC is coordinated by the Loudoun County Parks, Recreation and Community Services department. Loudoun Youth supports YAC through fundraising and donations, volunteer engagement, and building community awareness. Furthermore, Loudoun Youth Inc. co-coordinates several projects and programs with YAC throughout the year.

YAC meets twice a month throughout the school year to work on special events for their peers and community service projects. Each year YAC focuses on community service activities and events selected by that year's youth membership.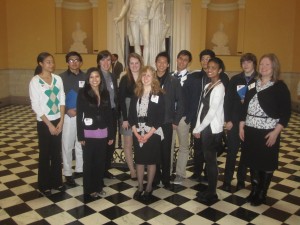 Every year YAC has the opportunity to speak to the Board of Supervisors providing insight on the issues they feel are most pressing for youth. In addition, the chair and vice-chair of YAC sit on the Advisory Commission on Youth (ACOY) and provide youth a voice in the county throughout the year.
YAC and Loudoun Youth Inc. co-coordinate and host Youth Fest, a large community event attended by approximately 2,500 – 3,500 people each year. Youth Fest provides a venue for teen bands, while introducing youth to local nonprofit organizations. Youth Fest is preceded by Battle of the Bands competitions which provide safe spaces on 4 Friday nights.
YAC and Loudoun Youth Inc. co-coordinate and host the Step Up Loudoun Youth Competition.
For more information on YAC, please visit their website.