Step Up Loudoun Youth Competition encourages middle and high school youth across the county to identify an issue in their school, neighborhood or community, create a plan to address that issue, and implement the plan. The goal is to encourage, support and reward the youth of Loudoun County for making positive changes in their own lives and the lives of others.
YOU can make a difference! Use your talents, creativity, and teamwork skills to positively influence the lives of others in your community.  The Step UP Loudoun Youth Competition took place on March 28 and April 5, 2017.  Congratulations to ALL the participants for displaying leadership and vision!  Not too soon to start thinking about the 2018 Step Up.  Registration will start in October, 2017.

Step Up Awards go to the Top Ten Teams:

1st place: $1,000
2nd place: $500
3rd place: $250
4th – 10th: $100
Prize amounts sometimes increase with additional sponsorships
The Step Up Loudoun Youth Competition is presented by Loudoun Youth, Inc., Loudoun County Parks, Recreation and Community Services with support from the Youth Advisory Council, and Loudoun County Public Schools. Step Up is sponsored by YouthQuest Foundation.
2017 Top Ten:
Clean Up Beaverdam Creek Reservoir (Rock Ridge High School): an ongoing effort to clean up and raise awareness of Beaverdam Reservoir;

Be Me For a Day (Broad Run High School): creates "a day in the life" videos to assist high school students and adults in choosing a profession;

*First Place*

– Call of Security (Rock Ridge High School): develops a free machine to combat cyber threats;

*Third Place*

– Clean Kits (John Champe High School): collects hygiene and sanitary products for homeless women in Loudoun County;

Environment Rescuers (Rock Ridge High School): educates and raises money to understand the water crisis around the world and make long-lasting changes;

Every Voice Heard (Harper Park Middle School): creates a website to address depression and suicide, where individuals can share their stories;

Loudoun Purity (Eagle Ridge and Stone Hill middle schools): raises money through a 3K run for hygiene kits for the residents of the Leesburg Homeless Shelter;

Personal Teach (Stone Hill Middle School): a program that helps students combat low academic proficiency;

*Second Place*

– Put It Down! (Eagle Ridge, Mercer and Stone Hill middle schools): raises awareness about the dangers of distracted driving;

UnSalted (Riverside High School): creates an app that provides tools to help high school students cope with and decrease stress.
2016 Winners: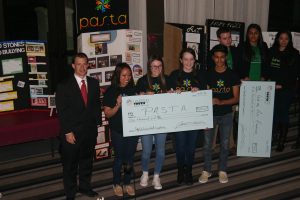 The first-place, $1,000 prize went to PASTA, an organization that addresses the many issues that kids in our community face by giving kids of all ages meaningful volunteer opportunities.
Stone Bridge, Rock Ridge, Broad Run & Stone Hill Middle School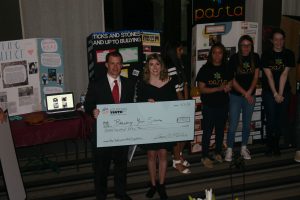 The second-place, $750 prize went to Breaking your Silence: Empowering survivors of sexual assault.
Briar Woods High School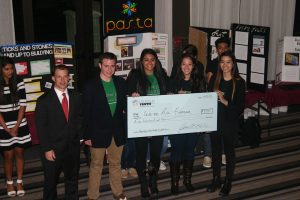 The third-place, $500 prize went to We're All Human: Suicide Prevention in Loudoun County/ Mental Health Awareness
Wood grove High School
ALL Step Up participants are not only the leaders of the future, but young leaders of today. For more information and photos on Step Up Loudoun Youth, find us on Facebook.

History and Description
The program was started in 2004 as a way for youth to speak out about issues they observed in their schools and communities. Over the years, it has evolved to allow youth an opportunity not only to speak out but also to have an impact on the issues they find pressing.
Starting in October, program coordinators visit local middle and high schools to promote the competition to guidance counselors, teachers and students. At the end of the competition period, youth showcase their projects to each other, judges and the local community. All projects are recognized in some way, but the top ten win cash prizes.
2017 Issues Identified by Youth
bullying
cyber-bullying
internet safety
teen dating
stress management
teen pregnancy
homelessness
poverty
academic pressure
self esteem
nutrition/obesity
cancer support
depression
suicide
drugs/alcohol
drunk driving
patriotism
elder support
endangered species
Help us recognize and support the incredible youth of Step Up Loudoun Youth Competition
To help Loudoun Youth Inc. continue to bring Step Up and other programs to our youth, learn about our sponsorships.