Step Up Loudoun Youth Competition encourages middle and high school youth across the county to identify an issue in their school, neighborhood or community, create a plan to address that issue, and implement the plan. The goal is to encourage, support and reward the youth of Loudoun County for making positive changes in their own lives and the lives of others.  
The Step Up Loudoun Youth Competition is presented by Loudoun Youth Inc and Loudoun County PRCS with support from LCPS and the Youth Advisory Council.     Step Up is sponsored by YouthQuest Foundation.        
STEP UP LOUDOUN YOUTH COMPETITION AWARDS $4000 TO TOP TEN TEAMS

 Well Done to ALL who participated!  On Tuesday, March 29, Loudoun Youth, Inc. narrowed down a field of 59 teams to the Top 10 teams in the 6th Annual Step Up Loudoun Youth Competition. These community minded youth presented their project outcomes on April 6 to a panel of local business, civic and community leaders to win recognition and cash prizes:
1st place: $1,000
2nd place: $750
3rd place: $500
4th – 10th: $250
Start thinking NOW about the 2017 Competition: First round March 28, 2017 at Trailside Middle School; Finals, April 5, 2017 at the Clubhouse at One Loudoun.  Registration begins October 3, 2016. Deadline to enter: December 16, 2016.

The 2016 winners are:
1st Place: PASTA  an organization that addresses the many issues that kids in our community face by giving kids of all ages meaningful volunteer opportunities. Stone Bridge, Rock Ridge, Broad Run and Stone Hill Middle School.
2nd Place: Breaking Your Silence – Empowering survivors of sexual assault. Briar Woods High School.
3rd Place: We're All Humans   Suicide Prevention In Loudoun County/ Mental Health Awareness. Woodgrove High School.
Clean Kits Collecting hygiene and sanitary products for homeless women. John Champe High School.
Electronic Binder Reducing the load of carrying homework and binders. J. Michael Lunsford Middle School.
Geared Up  Increasing accessibility of robotics by sharing our working $10, customizable, standards-aligned, Craft-A-Bot robotics kit with students everywhere! Stone Hill Middle School.
Look Up! Encouraging people to step away from their electronic devices and take a more proactive role in their community. Blue Ridge Middle School.
Saving Loudoun's Littles – One Car Seat at a Time – Bringing car seat safety inspections back to Loudoun County.  Smart's Mill Middle School.
Stem 3G   Raising awareness for the gender gap in STEM related occupations while boosting young girls self-esteem. John Champe High School.
Sticks and Stones  Bullying intervention.  Briar Woods High School
Congrats to the 2016 Winning Teams!
2015 Winners: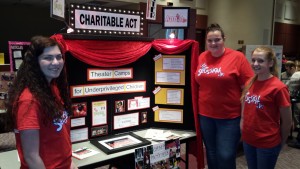 The first-place, $1,000 prize went to Briar Woods High School students Hannah Ratcliffe, Kelsey Clark and Allison Ball for their Charitable Act program to provide summer theater camps to underprivileged children.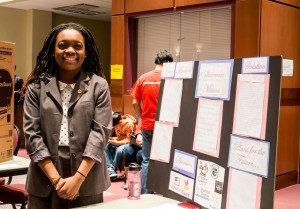 The second-place, $500 prize went to Virginia Academy student Amina Bukasa for her proposal to provide self-esteem-boosting activities for young women to celebrate their inner and outer beauty.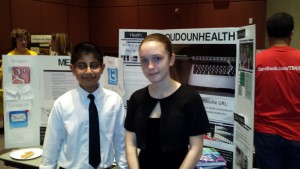 The third-place, $250 prize went to J. Michael Lunsford Middle School students Rohan Arora and Robab Newbury for their Loudoun Health project that provides online information about health and disease for the county residents.
ALL Step Up participants are not only the leaders of the future, but young leaders of today. For more information and photos on Step Up Loudoun Youth,  find us on Facebook.

History and Description
The program was started in 2004 as a way for youth to speak out about issues they observed in their schools and communities. Over the years, it has evolved to allow youth an opportunity not only to speak out but  also to have an impact on the issues they find pressing.
Starting in October, program coordinators visit local middle and high schools to promote the competition to guidance counselors, teachers and students. At the end of the competition period, youth showcase their projects to each other, judges and the local community.  All projects are recognized in some way, but the top ten win cash prizes.
2015 Issues Identified by Youth
bullying
cyber-bullying
internet safety
teen dating
stress management
teen pregnancy
homelessness
poverty
academic pressure
self esteem
nutrition/obesity
cancer support
depression
suicide
drugs/alcohol
drunk driving
patriotism
elder support
endangered species
Help us recognize and support the incredible youth of Step Up Loudoun Youth Competition
To help Loudoun Youth Inc. continue to bring Step Up and other programs to our youth, learn about our sponsorships.