Step Up Loudoun Youth Competition encourages middle and high school youth across the county to identify an issue in their school, neighborhood or community, create a plan to address that issue, and implement the plan. The goal is to encourage, support and reward the youth of Loudoun County for making positive changes in their own lives and the lives of others.  
The Step Up Loudoun Youth Competition is presented by Loudoun Youth Inc and Loudoun County PRCS with support from LCPS and the Youth Advisory Council.     Step Up is sponsored by YouthQuest Foundation.        
Project teams, be sure to attend one of the mandatory presentation sessions in January/February. To change your project details or team members, contact Marianne Moore at mmoore@loudounyouth.org.
Project Teams: Review the Final Details Orientation HERE.
Registration is now closed for Setp Up Loudoun Youth Competition 2016.  Self-esteem…Suicide Prevention…Environment….Health…Substance Abuse YOU ARE MAKING A DIFFERENCE! See the INFO Presentation for 2015-16 or the Step UP VIDEO.  Working as a team or individual, identify an issue and do something about it. Display your implemented project at Step Up Loudoun Youth Competition in March, 2016 and you could win:
1st place: $1,000
2nd place: $500
3rd place: $250
4th – 10th: $100
plus other cash awards and recognition
Step Up Loudoun Youth is open to all Loudoun middle and high school students. Team members do not have to attend the same school. Community groups and clubs are welcome.
Important Dates for Step Up 2016:
Oct. 1, 2015 Registration Opens
Oct, Nov. , Step Up Information Sessions in Schools
Dec. 18,  2015 Registration Closes
January 19, 2016  Final Details Presentation, Dulles South Multipurpose Room, 24950 Riding Center Drive, South Riding.  Attendance at one of the Final Details Presentations is mandatory.
January 20, 2016 Final Details Presentation, Claude Moore Rec Center, 46105 Loudoun Park Lane, Sterling
February 3, Final Details Presentation, PRCS, 20145 Ashbrook Place, Suite 170, Ashburn
February 24th, Final Details Presentation Rain/Snow Date, PRCS, 20145 Ashbrook Place, Suite 170, Ashburn
March 29, Step Up Loudoun Youth Competition, Round 1: Trailside Middle School, 20325 Claiborne Pkwy, Ashburn, VA 20147; Check-in 5pm, Competition 6pm

April 6, Round 2, Finals and Awards Ceremony,  Clubhouse at One Loudoun, 44605 Russell Branch Pkwy, Ashburn, VA  20147
Please note that important details about the competition will be sent by EMAIL.  Please check regularly.
WELL DONE to ALL the Step Up 2015 participants for making a difference in our lives!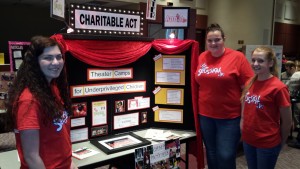 The first-place, $1,000 prize went to Briar Woods High School students Hannah Ratcliffe, Kelsey Clark and Allison Ball for their Charitable Act program to provide summer theater camps to underprivileged children.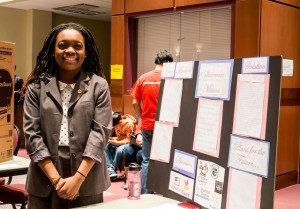 The second-place, $500 prize went to Virginia Academy student Amina Bukasa for her proposal to provide self-esteem-boosting activities for young women to celebrate their inner and outer beauty.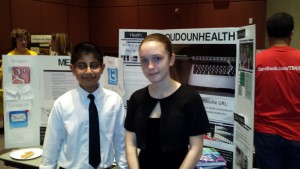 The third-place, $250 prize went to J. Michael Lunsford Middle School students Rohan Arora and Robab Newbury for their Loudoun Health project that provides online information about health and disease for the county residents.
ALL Step Up participants are not only the leaders of the future, but young leaders of today. For more information and photos on Step Up Loudoun Youth,  find us on Facebook.

More Step Up winners for 2015:
Stem Gives Gifted Girls – Shaalini Desai, Pooja Gupta, Ankitha Anumolu
Favor Diversity – Samantha Lawson
Forget Me Not – Melina Watson, Jaya Tuggle, Annika Bolton, Kenny Bolton, Ethan Watts, Gabe Jupiter, Nathaniel Brown
Liam's Loudoun Hygiene – Liam Mullen
Opening Hearts and Minds – Mason Delaney, Emily Varoujanian, Ashley Pandelicles, Sara Mille, Natalie Swarm, Sophia Varoujanian, Kaylin McConnell, Hayley Eck, Hannah Bulmer, Katherine Potter, Jennifer Garofolo, Katie Pauly
Breakfast Club – Juliette Labarthe, Kaleigh Curtin, Tyler Wulff
Another World – Beth Duke, Laura Castro, Becky Azuga, Sumaiyan Ali, Nathalie Nguyen, Anna Wang, Alexis Lee, Richard Robles
History and Description
The program was started in 2004 as a way for youth to speak out about issues they observed in their schools and communities. Over the years, it has evolved to allow youth an opportunity not only to speak out but  also to have an impact on the issues they find pressing.
Starting in October, program coordinators visit local middle and high schools to promote the competition to guidance counselors, teachers and students. At the end of the competition period, youth showcase their projects to each other, judges and the local community.  All projects are recognized in some way, but the top ten win cash prizes.
2015 Issues Identified by Youth
bullying
cyber-bullying
internet safety
teen dating
stress management
teen pregnancy
homelessness
poverty
academic pressure
self esteem
nutrition/obesity
cancer support
depression
suicide
drugs/alcohol
drunk driving
patriotism
elder support
endangered species
Help us recognize and support the incredible youth of Step Up Loudoun Youth Competition
To help Loudoun Youth Inc. continue to bring Step Up and other programs to our youth, learn about our sponsorships.