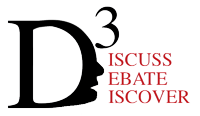 DCUB3D/Discuss, Debate, Discover, seeks to prepare the next generation by reinstating a productive dialectic into the public conversation.  LYI, in partnership with Independent Education (IndED) has worked to develop a new forum for the youth of Loudoun County designed to support engaging, respectful conversations on the topics of the day. Organically grown from the youth themselves, DCUB3D (which stands for discuss, debate, discover) gives these youth a positive, out of school opportunity to connect with others with whom they may differ on many issues. Based upon the open platform of Community Conversations, youth are invited to discuss topics that are important to them, including patriotism, gender identity, sexuality, suicide, mental health, stress, free speech, politics, right to protest, and many others.
"The Point" is how DCUB3D introduces civic engagement and productive conversation to the teen community.

Ready for a respectful conversation on current hot topics with other high school youth?
Visit the D3 website for location and topic of the month.
How to participate:
Contact the D3 website and fill out the contact form to request participation
Email info@loudounyouth.org for more information, or
Text your RSVP or questions to 703-626-4888.
Thursdays from 7-9 PM:
September 13, 2018
October 11 – The Bean Bar, Leesburg
November 8 – Barnes and Noble, One Loudoun
January 10, 2019 – The Bean Bar, Leesburg
February 7
March 14