Loudoun Youth Leadership Program is a week-long leadership program designed to introduce youth to leadership concepts and to provide exposure and interaction with local business, government and community leaders. Youth spend productive and valuable time learning leadership skills in a classroom-type setting, but spend the majority of the week observing leadership in action with local business, government and community leaders. The program is open to rising sophomores, juniors and seniors who live in Loudoun County. Classes are limited to 25 youth per week to encourage team building and provide a genuine experience in a small group setting.
Save the Dates: Summer 2017
July 10-14 and July 31-August 4. Applications will start February 1, 2017
Look for Acceptance notices by EMAIL. Tuition payments and registration confirmations must be received by April 29, 2016 for both classes.  Class Schedules will be sent by EMAIL two weeks prior to the class and posted here.
Accepted Students , please make your payment and download your required permission forms here:
Tuition, $450  Please enter the student's name with your payment in the special instructions box.
Lunch Reservation, $20 – Please enter student name for each attendee.  Thank you!
Selected applicants, return your participant/permission forms on or before April 28 by mail or scan and email to swolfson@loudounyouth.org.
Scholarships are available based on need.  Download Scholarship Application.
This program is for youth who want to expand their comfort zone and gain confidence in leadership as well as those who think they have it all figured out.  You will be surprised!  What to expect from Leadership Loudoun Youth:
The week's activities include:
3-hr workshop exploring leadership skills, communication styles, and high-performance teams
an overnight stay on Monday night with group social interaction
networking and direct interaction with business, civic, cultural and government leaders
shared experiences and success stories from Loudoun's visionaries
keynote presentations on making a difference from community and foundation leaders
public speaking and interviewing classes
exercises in effective communication, goal-setting, and the responsibilities of citizenship
site visits to a cross-section of culture, business, government, agriculture and technology in Loudoun County
Youth who participate in the program have the opportunity to:
develop valuable leadership skills
interact with local government and business leaders
observe the qualities of communication, teamwork and
leadership at work in their environment
understand the difference between leadership and power
learn more about the Loudoun community, our rural and suburban areas, our heritage and current economy
gain insight into the issues and challenges facing the county
achieve an enhanced sense of self and the impact one can have on the community
gain confidence in communication and public speaking
learn more ways to be involved and make a difference
gain new friends and connections
visit unexpected places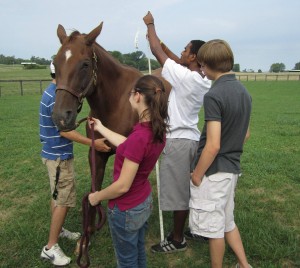 Learning About Equine Care
To see more about last year's class, visit the LLY photo album on Loudoun Youth FACEBOOK or see the LLY2015 video.  Or see the LLY2015 Schedule Outline for the week – 2016 schedule will be similar.
Would you like to volunteer? Applications are being accepted for youth interns.
Adult volunteers are needed for course preparation and as chaperones. Call 703 431-1033.
Find out more about supporting this great program as a Sponsor.