Become a Loudoun Youth Teen
Are you in middle school or high school and looking for a way to get involved? Loudoun Youth Inc. has opportunities for you to work with other teens and community leaders in our programs and projects. We also promote and collaborate with other organizations who provide opportunities for teen involvement. We invite you to join us!
The miracle is this – the more we share, the more we have. – Leonard Nimoy
Loudoun Youth Fest – Join us on the day of the event with setup assistance, crowd control, help "staff" a booth, or other activities.
Rock the Runway – Teen volunteers help us set up and break down, assist in dressing rooms, sell tickets and a variety of other tasks related to this event.   Teens also participate as models for the event.  This event takes place in the fall on a weekend.
Leadership Loudoun Youth – Youth volunteers help plan and organize, run errands, collate notebooks, collect and summarize evaluation forms. This event takes place in the summer on a Monday-Friday schedule.
Step Up Loudoun Youth Competition – Youth project teams needed to tackle an issue or need in their school or community.  This takes place in the spring, but planning starts in the fall.
Other Activities – AOL 5k Race and Fun Run and more.
If you are interested in becoming more involved, please contact us. and tell us about your interests, schedule, your school and activities. So many possibilities! Whatever your interests, there is a volunteer activity for you (to name just a few): Youth Advisory Council (YAC), Volunteer Loudoun, Loudoun Volunteer Caregivers, Animal Rescue Shelters, Loudoun Habitat for Humanity, GoodShepherd Alliance, Interfaith Relief, Loudoun Wildlife Conservancy, Claude Moore Community Builders, Loudoun Cares, SPROUTS, Loudoun Therapeutic Riding.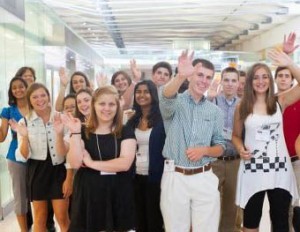 Don't forget to sign up for the Loudoun Youth newsletter and Like Us on Facebook. We post news from time to time on volunteer opportunities and projects. Thank you for being a positive influence in your community!