Become a Loudoun Youth Teen
Are you in middle school or high school and looking for a way to get involved? Loudoun Youth Inc. has opportunities for you to work with other teens and community leaders in our programs and projects. We also promote and collaborate with other organizations who provide opportunities for teen involvement. We invite you to join us!
The miracle is this – the more we share, the more we have. – Leonard Nimoy
Loudoun Battle of the Bands– Join the Youth Advisory Council (YAC) and help to coordinate these, and other events for teens. Opportunities include: on the day of the event with setup assistance, crowd control, or other activities.
Claude Moore Community Builders – Community Service volunteer program for teens. Join the CMCB program and work along side your peers in volunteering for many of Loudoun Counties non-profit organizations.
Loudoun Youth Leadership Program – Join other teens from across Loudoun County for a fun filled week designed to introduce leadership concepts, and provide exposure and interaction with local business, government and community leaders.
Step Up Loudoun Youth Competition – Step Up Loudoun Youth Competition – Youth project teams needed to tackle an issue or need in their school or community.
If you are interested in becoming more involved, please contact us and consider registering for one of our outstanding programs. So many possibilities! Whatever your interests, there is a program for you!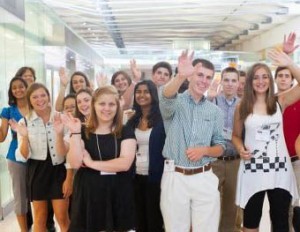 Don't forget to Like Us on Facebook. We post news from time to time on volunteer opportunities and projects. Thank you for being a positive influence in your community!