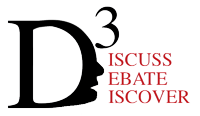 D3/Discuss, Debate, Discover, seeks to prepare the next generation by reinstating a productive dialectic into the public conversation.  LYI, in partnership with Independent Education (IndED) has worked to develop a new forum for the youth of Loudoun County designed to support engaging, respectful conversations on the topics of the day. Organically grown from the youth themselves, D Cubed (which stands for discuss, debate, discover) gives these youth a positive, out of school opportunity to connect with others with whom they may differ on many issues. Based upon the open platform of Community Conversations, youth are invited to discuss topics that are important to them, including patriotism, gender identity, sexuality, suicide, mental health, stress, free speech, politics, right to protest, and many others.
"The Point" is how D3 introduces civic engagement and productive conversation to the teen community.
The second "The Point" at the Bean Bar in the Village at Leesburg did not disappoint.
There were a few new faces, and everyone was excited to talk about Race and Politics and "Labels." We were also excited to have a few folks join us from Interfaith Bridges, and we look forward to establishing relationships with any groups in Loudoun County who are interested in Civic Engagement and lively discussions. If you are interested in supporting our mission, please contact us.
Both groups left wanting more and we are looking forward to our next "The Point", Thursday, February 8, 7pm at the Bean Bar! Future gatherings will take place on the second Thursday of each month. Check this site for current location.
How to participate:
Previous participants invite others with differing views

Contact the D3 website and fill out the contact form to request participation

Email info@loudounyouth.org for more information
A special thanks to the Bean Bar for hosting!
Bean Bar, Village at Leesburg, 1601 Village Market Boulevard, SE.